I can help you create your own residential proxy with multiple 4G USB modems. Essentially, it is going to be your own 4G proxy farm.
You own and run the hardware – I support you!
4G LTE Mobile Proxies consist of a server box (it can be a Raspberry Pi or a Mini PC or a laptop), a USB hub, and several 4G modems, where each modem is attached to its dedicated proxy address. The proxies can be rented and used either from the Internet or from the same LAN where the server box will be placed.
The software is a command-line-based BASH script with a WebApp (see the screenshots).
Full description (README.pdf or README.html) of the software is available.
How to make 4G proxies?
Price
1 server with 1 modem
1-week support
License for 6 months
Lite, USD 59
1 server with 10 modems
1-week support
License for 6 months
Medium, USD 129
2 servers with 20 modems on each
2-week support
License for 1 year
Pro, USD 149
3 servers with 20 modems on each
3-week support
License for 2 years
All plans include help with deployment & documentation.
Extras:
a modem $5
a server for $40
Web App demonstration
Description of the 4G proxies setup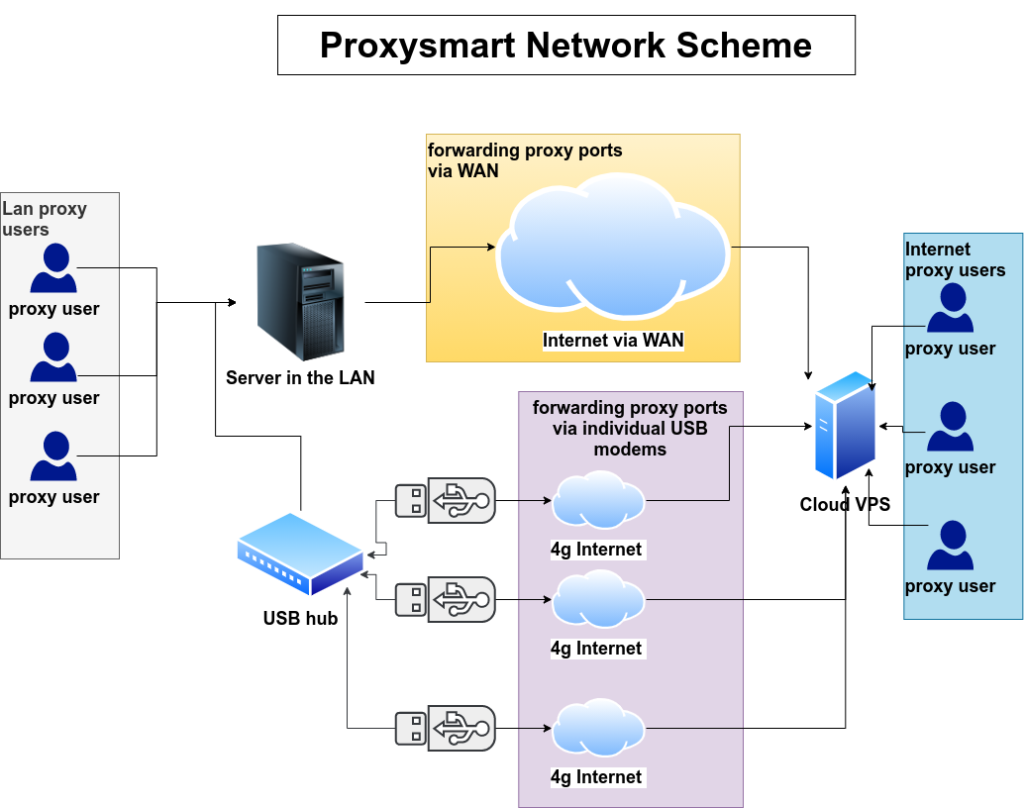 Adding a new modem to the 4G proxy setup
Plug it in the USB hub
Add its IMEI to the database
Apply settings.
Properties of a 4G mobile proxy farm
Each modem will have its own settings and firmware. The modems are identified by their unique IMEI.
There is a definition of every modem, including:

IMEI
NickName (for easier referring to modems instead of IMEI)
Proxy HTTP & Socks5 port
Proxy login & password

Each modem can be reset or restarted individually. At the moment it is done by clicking a button or by adding Cron Jobs or by API calls.
The complete script includes the following functions:

list current statuses of all modems
change an IP of a modem
reboot a modem
run speed test on a modem
reset & regenerate all configurations
read\send SMS or USSD
checking bandwidth stats
checking IP rotation history

Proxy ports can be forwarded through a VPS in the cloud.
OS TCP Fingerprint spoofing is supported, to simulate other Operating System TCP Fingerprints, e.g. pretending it is Windows, MacOS X, IOS, Android.
IPv6 is supported.
Prerequisites:
Modems
Consult with me whether your modems are suitable.
USB Modems should work in a HiLink (or similar) mode (Virtual Ethernet Adapter). The best indicator of that is that you can visit their Web-GUI on the modem IP.
USB Modems that were proven to work well:

Huawei: E3372, E3531, E55xx, E8372
ZTE: MF920, MF83x, MF279, MF6xx, MF93D, MF79, MF971

Alcatel: LINKZONE 8349, IK41, MW40, MW4x
UF906 family: Anydata W150, KuWfi, TianJie

LTE modules, M.2 or mini-PCI-e:

Quectel: EC25, EC200, EP06
Sierra Wireless: EM7455
4G/5G LAN routers e.g. Huawei B311, and other Huawei Bxxx. Similar routers models support can be added by demand.
USB hub
One or two USB hubs with external power source.
It is better to have a "smart" USB hub, where the ports can be power cycled programmatically, but it is not mandatory.
at least 0.9 A guaranteed current per USB port
Linux box
A laptop or a cheap PC or a miniPC. We can also create a residential proxy on Raspberry Pi, but I have previously encountered some power issues with it. We need the CPU power on high bandwidth, so I prefer using a PC if possible.
Normally Raspberry PI can serve ~ 5 proxies, a miniPC – up to 10, a Laptop like Core i5 – up to 30. It depends on how heavily the proxies are used.
Recommended but not critical: fast download and upload of home "ground" internet, both >10mbps.
VPS
VPS in the cloud, in case you need to forward proxy ports to the Internet for a future rental. It should have at least 0.5 or 1 GB RAM and should be placed in close proximity to the rest of the hardware to make pings lower.
Money
See price above, depending on a plan.
After we build your own 4g proxy farm, you would be able to:
surf the Internet through proxies, either from your LAN or (when the VPS is used) from the Internet
visit each modem's WEB GUI through its corresponding proxy
add new modems
change MTU/TTL on the modems
forward proxy ports either via the individual cell WAN or via the LAN of the server
HTTP/CLI API calls (JSON is returned for each)
list present modems/proxies
change their settings
get bandwidth stats for each modem
request speed test for each modem
read\send SMS or USSD
Some other useful options:
proxy ACLs (what to allow/deny to proxy users)
automatic deployment of new servers
bandwidth throttling